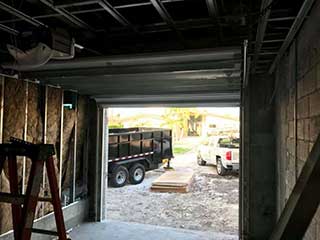 The job of overhead garage doors is to keep vehicles safe and secure however they need protection themselves, from the elements. If you wish your door to remain healthy for a long time to come, you need to take steps to protect it from excess moisture - the use of weather seals provides a main method for helping to keep your panels in top form. Read on for practical advice on getting this right.
Which Types of Seal?
The first thing is to decide on the types of seals which you will use. We recommend opting for a bottom seal which is attached directly to the door. When it comes to materials, you have three main options. These include rubber, vinyl, and brush. The use of brush seals is not too common for residential homes - they're used mainly for commercial doors to minimize air flow. Rubber and vinyl both offer excellent protection from moisture and possess good resistance to UV damage - vinyl is often preferred for its greater durability.
Add Weather Seals Early On
Seals can help keep rain, wind, dust and debris from your building – they can also minimize drafts from creeping in. Air infiltration and leakage is a common thing in many buildings and doors can be a common problem point. For this reason, it's important to add weather strips immediately after the installation process. This way, moisture won't be allowed to creep into the panels and cause trouble before you have even started to use the system. Besides, the strips work to provide better insulation which is beneficial both during the summer and winter.
How Will They Be Installed?
The next step is to choose a method for installation. The strips with adhesive tend to fall off sooner due to the effects of the elements, but they are easier to install. Likewise, strips attached using nails tend to stay in place for quite some time. However, when it comes to their replacement, the job takes more time and effort. Installation of retainers at the top and bottom and sides of the garage door panels perhaps presents one of the most effective and dependable options. For the replacement of strips, you simply need to change the inserts. It really is as simple as this.
Check the Condition Often
We recommend checking the condition of the weather seals regularly – generally, if you see any light coming through the sides of the door when it is closed, it is probably time for new strips to be installed.
Please feel free to contact our professionals at Garage Door Repair Daly City with any more questions you have on this subject!