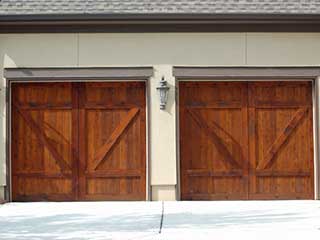 When you decide to build a new house or to recondition your old one, there are a number of points to take into account. As garage doors come in various materials and styles, you will have a lot of options to choose from. Nowadays, wooden garage doors are becoming more of a popular choice due to their durability, technical features and unique appearance. Below we run through some of the pros and cons of this type – at the end of the day, deciding whether a wooden door is suitable for you will depend on your precise needs and requirements, as well as the look and feel of your existing home exterior.
What Are The Advantages?
Not every home comes with a standard size garage door, the great thing about wood is that it can be customized pretty easily and made to fit smaller spaces – all you need to do is check the measurements are correct and have a professional install the new door for you.
Depending on the aesthetic look you're going for, wood can look more natural than metallic doors in certain environments. You also have a range of shades and patterns to choose from. You could opt for multiple designs and patterns to be built in or simply choose standard panels to make up your door.
Unlike glass, aluminum and steel, wooden doors will not crack and can be fairly resistant to temperature fluctuation. Some doors come with a number of layers as standard, and may include steel frames for better sturdiness. Wooden doors can also come with added insulation for better protection against the elements and sound absorption.
Wood is a renewable resource and considered earth-friendly. Moreover, youcan buy a lot of natural treatments to increase the life span of your garage door, protecting it against bending, rotting and erosion.
Wooden doors can be repainted easily and numerous times each time you want a new look. Varnish is also an option and a popular covering for many types of wood.
What Are The Disadvantages?
Depending on your requirements, wood is generally more expensive than steel and other materials. However, the more you customize the higher the price will be, if you opt for a simple design, the price can be kept low.
These types of door will likely require a bit more maintenance than other types due to their tendency to rot and erode. By opting for a door made from wood, you will need to make a commitment to its upkeep to ensure it lasts its full lifespan. We always recommend periodic protective coatings to be applied for weatherproofing purposes.
Is A Wooden Door Right For You?
Still not sure if this type of door is right for you? Just contact our experts at Garage Door Repair Daly City – we'll be glad to help you make the decision that is right for you.