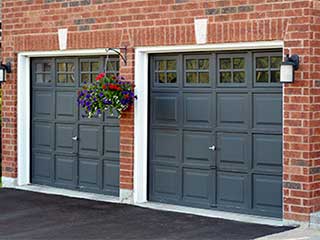 We believe that our clients should own a door that not only suits their needs, but their sense of style as well. Luckily doors come in all types of styles, sizes, materials, designs and finishes. However with all this choice, it can be tricky to decide which option is best for you. As experts, we can help you through this process – we know the considerations you should consider. Read on for a quick checklist, designed to help you with this selection process.
What Is The Budget?
This is one of the first questions you should consider as most choices will be affected by this. Once the budget is set, it will then be possible to decide on the design and style of door within the parameters that you've set yourself.
Which Look Should You Go For?
There are three broad main styles - carriage-house, contemporary, and traditional. Carriage-house designs are very popular with homeowners as they are highly customizable and come in a variety of design choices. From the crisscrossing wooden bars at the front to the arched windows, these designs can give a warm and historic feel. If your preferred style is more modern and minimalist, we would recommend going for a contemporary style. On the other hand, a contemporary garage door may not fit with a quaint and traditional country house – it is all about considering the right look and feel for you!
What Materials Are Available?
Doors can come in all types of material, like aluminum, steel, glass, faux wood and real wood. The type of material will depend on your taste, the weather conditions of your area and of course, budget. We'll be able to guide you with this decision.
Visualize Your Door!
Some of our clients aim to have the perfect garage door in mind by the time they call us. There's no harm in doing your own research before talking to a professional. Clopay offer a great little innovative tool called the 'Door Imagination System' – it allows you to choose one of the pre-loaded layouts and assemble your own garage. Why not check it out and preview different door styles, designs, and finishes there.
Contact Our Professionals
Our specialists at Garage Door Repair Daly City are on hand to help you choose the right door for you and look after your installation needs, just call us today to discuss your options!