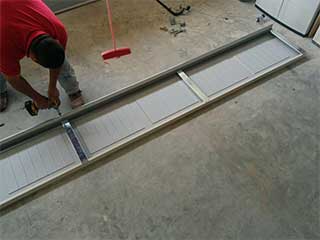 Garage door wear and tear is inevitable in the long run considering the extensive use they are subjected to on a daily basis. Due to natural deterioration, some parts can stop functioning as normal over time. However, this does not necessarily mean you always have to source a new part. If it's possible, you can trust our team to do the repairs needed to restore the component and your door to its previous working condition.
Damage To Your Springs
Torsion and extension springs play a vital role in the operation of your system as they are responsible for the raising and lowering motion of your door. Without properly functioning springs, it will become impossible to move your door. Due to the pressure these springs endure with each use, they are prone to breakage over time. When this happens, our experts at Garage Door Repair Daly City have got you covered. We offer quality repair and maintenance services so you never have to struggle with a snapped spring for long.
Bent Or Broken Track
The tracks are the paths along which rollers move. Over time, they can bend out of shape due to the weight of the door. If this occurs, it becomes difficult for the rollers to function normally. Attempting to repair the track yourself can lead to injury and possibly further damage so we always recommend calling our professionals if you notice a problem here. Luckily for you, our experts are experienced when it comes to repairing such damage.
Rollers Not Working
Your rollers can wear down over time due to their constant operation – this is even more likely if they are struggling with uneven tracks. The wheels may wear, break, or begin to wobble producing high-pitched noises each time you try to open the door. If this happens, we have our team of experts at your disposal to diagnose the problem and replace your rollers in the shortest time possible.
We Are Here For You
Don't hesitate to reach out to us if you're experiencing issues with your door. We are here to provide you with a service you will be satisfied with.
A Few Informative Answers
Why is my garage door not opening?
Many things can prevent a garage door from opening. An untrained eye can catch some of these possible issues, but others could take professional troubleshooters to find. To start with, make sure that your opener is connected and turned on, and that there are no obvious breaks or jams in the door system. You can also test to see if the controls are at fault. Take the batteries out of your remote control and try the wall switch. Then, disconnect the wall switch and try the remote control.
Why is my garage door not closing?
The first thing to check if your garage door won't close is the safety sensor pair. If the lights on the sensors are off, then there's something wrong with the sensors or wiring. If they're blinking, then the sensors need to be cleaned or realigned. If the sensors aren't the problem, then you may have an opener jam or malfunction. If you heard a loud popping or banging sound, your door could have locked in place in response to a broken spring.
How much does a garage door weigh?
The lightest doors for small, single-lane garages weigh sixty to ninety pounds. The average family single car garage door with steel panels or reinforcement weighs between one hundred and one hundred and twenty pounds. The heaviest garage doors are hardwood and made for extra wide entrances. These can weigh between three and four hundred pounds. Heavy garage doors tend to be more secure and impact-resistant, but they also have drawbacks. Heavy materials might not be the longest-lasting, and a heavy door needs a very powerful opener.
We Also Provide Service For:
Screw Drive Opener Replacement
Belt Drive Garage Door Openers
Part Replacement & Lubrication